Wed, Sep 18, 2019 at 10:50PM
---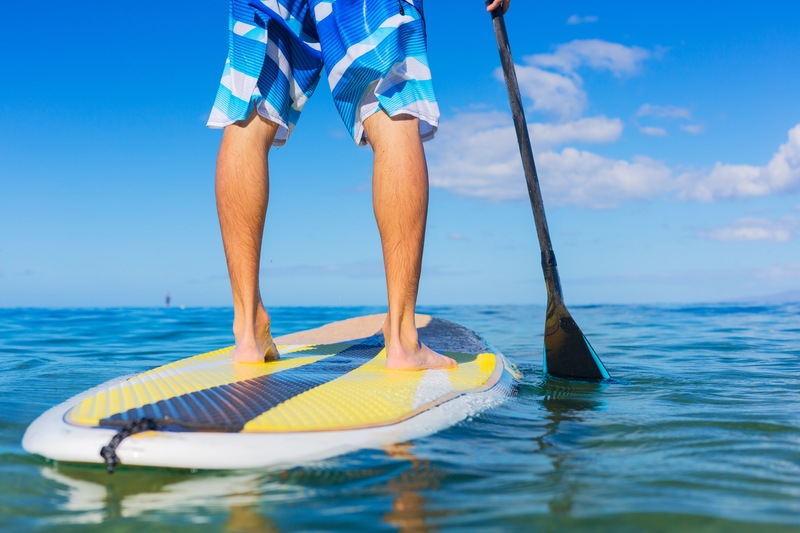 Summer may be over, but the water's still warm! Celebrate our sunny weather with a day of stand-up paddleboarding with friends. Just read on to learn more about this fresh, endlessly fun water sport—and how to enjoy it here at home!
What's SUP with SUP?
Aside from sporting a seriously catchy name, what is there to know about SUP?
Stand-up paddleboarding may be the water sport du jour in sunny states like Florida and California, having really picked up in popularity in the last decade, but early predecessors to the sport have existed for centuries—or longer. For example, bamboo drifting is a sport that originated in Guizhou, China's river communities. Today a competitive sport, the activity involves moving across the water as you stand atop a thick bamboo pole and paddle along with a thin pole. (Talk about balance!) Comparisons can also be drawn to the Italian gondola and, most importantly, Hawaiian surfers who would sometimes use paddles as they navigated the water on their famous boards.
Today, stand-up paddleboarding holds the distinction of being one of the country's most popular outdoor activities. In fact, in 2017, the Outdoor Industry Association reported that it was the fastest-growing outdoor activity in the United States… and we can't see it slowing down any time soon!
Part of SUP's allure is just how accessible and intuitive it is to experienced boarders and newcomers alike. You simply need a paddleboard (which you can buy or rent; it is longer than your traditional surfboard and, thus, easier to balance on), paddle, and some smooth water. Then stand up and get used to the rhythm of riding. You'll be a paddleboard pro in no time!
How to enjoy SUP in the Sunshine State
Now that you know the basics of stand-up paddleboarding, you may be wondering how and where to enjoy it around home! Here are a few of our favorite ideas…
Bring your friends! Stand-up paddleboarding can be enjoyed at a leisurely pace, so it's a great activity to enjoy as a group. You can even bring along your furry friend! SUP with a pup is a great way to enjoy the water and some quality time with your four-legged pal.
Find smooth water. Stand-up paddleboarding can be enjoyed in all kinds of environments—in fact, you can even bring your gear out to the ocean and ride small waves close to shore! However, calmer water like the Halifax River can provide a great backdrop for a smoother experience, especially for those who are just starting out. Enjoy the sea breeze from launch locations such as Port Orange's Riverwalk Park, where you can also bring canoes and kayaks for a day of paddling fun.
Mix things up. Once you get the basic rhythm down, you may find yourself looking for ways to mix up your on-the-water routine. Why not paddle somewhere calm and serene and enjoy soothing SUP yoga? Or test your skills (and your balance) and do some light angling? There's no limit to the ways you can enjoy time on your paddleboard!
Fuel up for the ride
Stand-up paddleboarding may be a slower-paced activity compared to, say, surfing, but it can still deliver quite the workout! Not only will you be standing the whole time, putting your legs to the test, but you will also be working your core and arm muscles with every stroke of the paddle. Be sure to fuel up with a protein-packed meal such as Coastal's Jerk Chicken Bowl, where you will find fuel in the form of Jerk chicken, black beans and avocado. (We're also the perfect place to come with friends after a thrilling day on the water!) For a SUP-ready snack, you can pack a bag or two of your favorite trail mix, or a combo of veggies and cheese bites for an easy, satisfying treat.
Ready to hit the water? Get started with a delicious meal here at Coastal Grill, or cap off your on-the-water adventure with a dinner out! Either way, our fresh Coastal flavors are sure to pair perfectly with your board and paddle for a truly memorable day. We look forward to seeing you soon!