Tue, Feb 23, 2021 at 12:29PM
---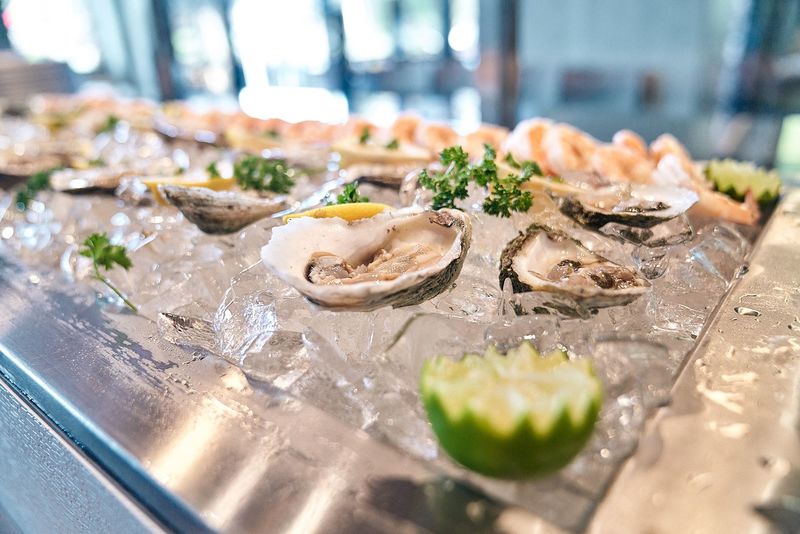 If you're not already an oyster aficionado, ordering your first raw oysters can certainly seem a little intimidating. We understand why! Newbies aren't always fully familiar with the best way to dig in and try this unfamiliar-looking delicacy. However, with just a little bit of oyster know-how, you'll soon be on your way to slurping down oysters with the pros and appreciating all the delicious nuances in flavor that accompany different types of oysters. Read on for your primer on some Oyster Appreciation 101!
Oyster Basics
First of all – what exactly is an oyster, anyway? This seafood favorite is actually a mollusk that lives in salty water. They're bivalve – or, have two shells – and are shucked open and left on a half-shell, chilled over ice, to be eaten.
While you may associate oysters with forming pearls, this is rare in true oysters, which are the family of oysters that we consume. Pearl oysters, a distinct variety, are known for covering invasive particles with nacre and, thus, produce pearls over a period of years.
Fans of oysters consume different varieties to enjoy their different tastes, which can vary due to the location and water in which they grow. For example, East coast oysters tend to be saltier and briny, while West coast oysters are said to be creamier and even sweet.
What About Toppings?
Some people prefer to enjoy oysters as-is, taking in their natural flavor to the fullest. If you're trying oysters for the first time (or even enjoying a new variety), it can be a good idea to try them without any additions first to get a base feel for the flavor. But, if you prefer your oyster with some added extras, there's nothing wrong with that! There's plenty of different options – cocktail sauce and horseradish are both popular oyster additions. But, if those feel too overpowering, you can't go wrong with a squeeze of lemon juice to bring out the oysters' delicious flavors.
Time to Eat!
If you're not sure how to approach eating an oyster, it can definitely be a confusing process. Don't panic! Here's the basic steps you need to know: first, start by making sure the oyster is detached from its shell. Take your small fork and check. Feel free to add any toppings (or not!). Then, like you're enjoying a wine tasting, you can take in the sea-salty smell and taste the oyster liquor that sits in the shell. Slurp up the oyster and oyster liquor from the wide end. While some might assume that you don't have to chew – you'd be missing out! Chew a few times in order to get the full spectrum of flavor from your oyster. Enjoy – and when you're finished, you can flip over each shell as a helpful signal both to yourself and your server that you've eaten.
Pick the Right Pairing
You've probably noticed that the whole process holds similarities to wine tasting. It's also a wise idea to pick a great drink pairing to go with your oysters! If you like wine, you'll be sure to enjoy oysters with a white, dry wine like Muscadet, Pinot Grigio, or Sauvignon Blanc. If you're feeling like adding a fancy touch to your meal or have cause to celebrate, champagne is an excellent choice to pair with oysters. Or, you can opt for beer – and Guinness or other stouts are known to taste great in this combination.
Trying out delicious raw oysters shouldn't be intimidating. Whether you start small at half an order or dive right in with a whole dozen, we're here to help you enjoy your first steps into the tasty world of raw oysters, shucked fresh at Coastal Grill and Raw Bar. Visit us today to try something new!