Tue, Jun 18, 2019 at 9:00PM
---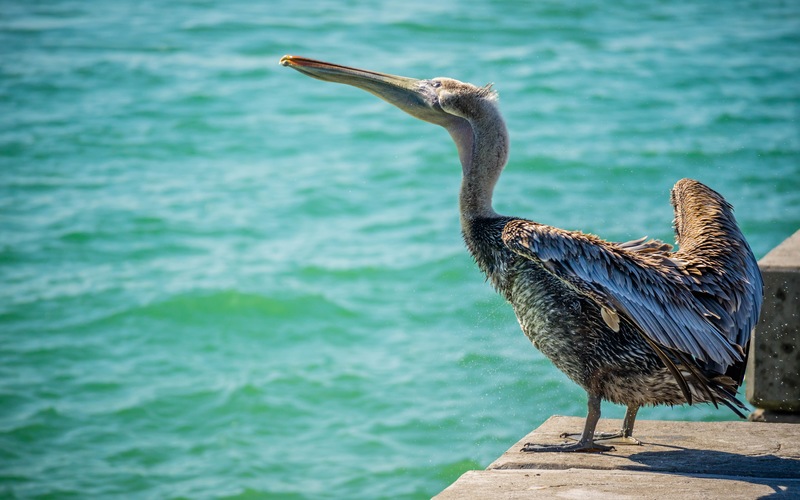 Whether you're cruising or kicking back on the beach, you're sure to spot lots of seabirds this summer—so why not put some names to their feathered faces? Read on as we explore the one-of-a-kind winged wildlife that call the local coast "home."
A brief birder's guide
Before your pull out your binoculars, get familiar with some of the places local birds like to hang out best!
Like their name might suggest, seabirds can frequently be spotted over the ocean and the coastline. But water-loving birds, especially in Florida, aren't limited to the big blue—in fact, many can be spotted on riverbanks and wading around marshlands, too. Port Orange and the surrounding area is filled with locations like these, so you're sure to spot some birds wherever you roam—whether that's by the river or on a back-to-nature day at Smyrna Dunes Park, where scrubby coastal shores and easy ocean access provide the perfect environment for many birds.
Sometimes, we watch birds simply for the fun of it—they are beautiful, majestic creatures, and watching them peck around, "talk" with each other or simply swoop around is part of what makes coastal living so special. But birdwatching can serve a practical purpose, too, especially if you plan to go fishing this summer. Seabirds in a frenzy above the ocean's surface indicates to anglers that there is something (usually fish!) attracting their attention below—so if you're not getting any bites, do as the birds do and see if they might point you in the right direction of some quality catches.
Brown pelican
One of the most familiar, feathered figures you'll spot by the water is, of course, the brown pelican. Known for its large bill and smooth diving style, this beloved bird can be found all year long in Florida. Its relative, the white pelican, is another popular sight seen a little less frequently since it's something of a snowbird, calling the Sunshine State "home" for the cooler winter months.
A great place to spot the brown pelican is on your favorite fishing pier!
Gull
It wouldn't be the beach without seagulls! These chatty birds like to hang out around the shore, soaking in the salty air and enjoying a snack—sort of like us! But don't feel the need to share your food. Simply enjoy the view. You may spot laughing gulls, known for their black top coloring and signature "chuckle," or herring gulls, the white-feathered birds most common on our shores. Either way, these birds are a tell-tale sign that the ocean (and a day of beaching fun) is not far off.
Roseate spoonbill
At first glance, you might think you've spotted a flamingo—but look a little closer and you'll see the classic, rounded bill that gives the roseate spoonbill its name. This beautifully colored bird can be spotted wading in shallow waters, and owes its pastel hue to the food it eats! Just like us, the roseate spoonbill loves shrimp—but unlike us, it's got feathers that turn pink thanks to carotenoids in the crustaceans it snacks on.
Great blue heron
A truly majestic bird, the great blue heron looks great while flying—not just because of its smooth, effortless style, but because its gray-blue feathers blend beautifully with the water environments it calls "home." From wetlands to the open water, this bird (the largest of the North American herons) is a great must-see for any beginning birder.
White ibis
You will often find the white ibis with its head down, wading for food in coastal marshes, its long, orange bill curving toward the surface for a snack. Of course, when it's not wading, the white ibis is known to hang out all around the coastal region, including, perhaps, your own backyard! Wherever it roams, the white ibis' simple elegance makes it a true Florida icon.
Bonus: Beach Bird
Okay, so it may not be an actual seabird—but after a fun-filled day of birding, you owe it to yourself to kick back and relax with a true Coastal classic! Our Beach Bird cocktail is made with Wicked Dolphin Rum, Campari, lime juice and pineapple juice, a simply satisfying combination whose tropical flavors pairs perfectly with a day spent by the water.
The Sunshine State's coast is the perfect place to go birding. And from Coastal Grill, you're just minutes away from the water! So be sure to head out and keep your eyes on the sky to see these majestic birds in action.