Mon, Feb 24, 2020 at 11:24AM
---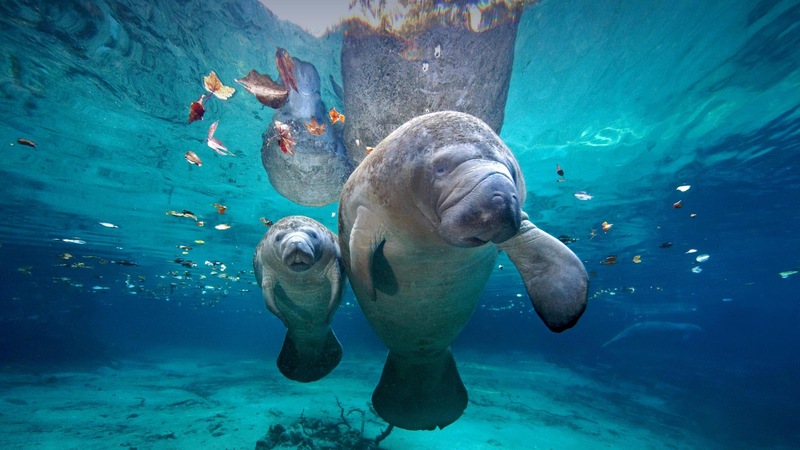 Winter is manatee season here in the Sunshine State—but what do our beloved "sea cows" actually do when the weather gets chilly? We've got the answer to this question and many more! Just keep reading.
How gentle giants stay warm
Manatees are mammals, so they are warm-blooded and able to regulate their internal temperature—but just like us humans, they don't want to be too cold! In fact, despite their large size (adult manatees can grow to around 1,000 lbs.), manatees don't have a layer of blubber like many of their fellow marine mammals, so they need to travel to warm water when the weather is chilly. This may mean hanging out in natural springs, or swimming around power plants where the energy generated keeps the water warm. That means during manatee season, which tends to run through the end of March here in Florida, you may spot manatees heading for warmth or, during the seasons' tail end, retreating back to their summer dwellings.
Also just like us humans, manatees enjoy summer vacations! They have been spotted as far north as Cape Cod, in fact, though this beloved gentle giant is still most closely associated with the Sunshine State. It has the honor being our state marine mammal, too.
Where to spot manatees
Wondering where to spot manatees in the wild? The beloved, slow-moving mammal (whose closest relative is the elephant) can be found traveling through local rivers, canals and waterways, as well as natural springs and power plant-adjacent waters. Manatees may even be sharing the water with you as you boat this season and beyond, so be sure to follow posted speed limits and safety zones and always keep an eye out for this beautiful creature below or near your vessel—you may just save a life! (Of course, humans aren't the only ones to give the right of way when they spot a manatee in the wild. Even alligators will make room when nudged by a passing manatee.)
One local destination beloved for its manatee viewing opportunities is Blue Spring State Park, where manatees can be seen gathering—especially on cool days like the ones we've been having recently! Even if you can't make it out to the park, you can still get your fill of manatee fun by visiting https://www.savethemanatee.org/manatees/manatee-webcams/ and watching a live feed of manatees from above and below the surface. You never know what beautiful moment you might see in real time.
For the perfect day out…
If you're embarking upon a manatee excursion (for which there are plenty of opportunities in and around Volusia County), swing by Coastal to fuel up for the fun ahead—or, come by for dinner after a day of manatee viewing! Seafood hits like our Clam Chowder are sure to soothe after a cool afternoon outdoors.
This winter, take a peek at our local waterways—you may just discover one of nature's gentle giants in person! And of course, be sure to pair your outdoor adventures with a trip to Coastal Grill for the soothing, flavorful fuel you need.