Fri, Mar 15, 2019 at 8:35AM
---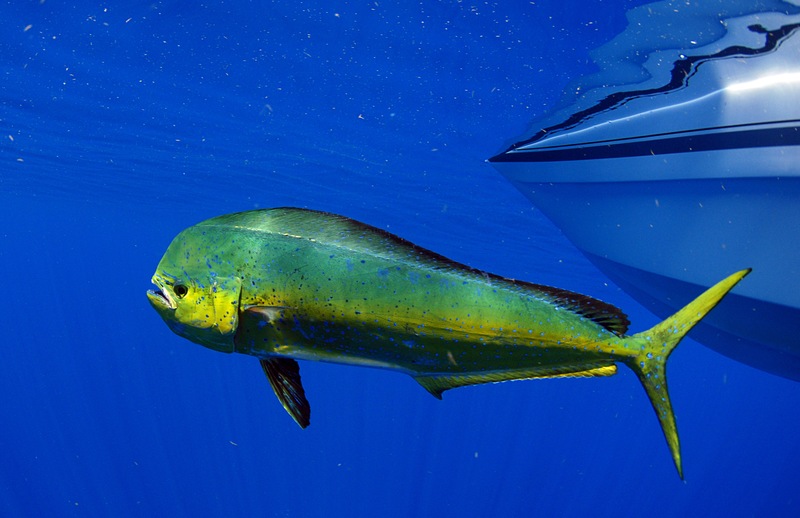 Whether you're a fisher or a foodie—or maybe a bit of both—you know that mahi-mahi is truly something special!
The vibrant tropical fish wows on the water, and makes just as big of a splash on land where diners dig into its sweet-yet-mild flavor.
A fish of many names…
Just what are we talking about when we say "mahi-mahi," anyway? The famous fish is sometimes referred to as dolphin or dolphinfish, but it certainly doesn't have flippers, a blowhole or that classic dolphin squeak! The nickname is misleading because there's actually no connection between mahi-mahi, a fish, and bottlenose (and other types of) dolphins, which are mammals.
So what's in a name? Mahi-mahi is actually a more appropriate nickname for the colorful offshore fish—it's Hawaiian for "very strong," which is a perfect way to describe the speed, stamina and fighting power of this tough-to-land catch! The fish is also called dorado by many anglers, based on the Spanish word for golden. It's easy to see why—as we'll explore later, a shimmery flash of color characterizes this prized fish on all sides. The variety of nicknames really proves just how wide the mahi-mahi's reach really is. It seems like every seafaring culture has adopted the fish as a favorite on the water!
… and colors, too
Like we mentioned, mahi-mahi is all about color. In prized catch photos, you can spot the fish sporting bright blue, green and shimmery yellow for a truly majestic, almost metallic medley of shades (no wonder mahi-mahi features so prominently on our favorite Florida fishing tees!).
But did you know there's more to those mahi colors than meets the eye? The fish is famous for its color-shifting scales, which can actually change based on the mahi-mahi's environment and activity. For example, the fish sports a cooler, bluer hue while swimming around underwater. When it's feeding or in an intense situation, it takes on more of that classic yellow—though on rare occasions, anglers have been able to catch a blue mahi-mahi that retains its cool color even out of the water! With every mahi-mahi boasting its own unique combination of colors and specks—sort of like a fishy fingerprint—each sighting offers a truly exciting experience. Of course, that's not even to mention the actual thrill of landing one…
How to land the catch
When it comes to fishing success, start by going where the mahi-mahi go. If you're in Florida, you're already in a great position. Offshore spots east of Daytona Beach, Port Orange and New Smyrna Beach offer some seriously excellent opportunities for fishing mahi-mahi. The fish can be found here just about all year long, but the action really kicks off in the spring, so take your boat or hop onto a charter and head out!
Trolling is the choice way to try for mahi-mahi—it involves drawing your line behind a moving boat to catch fast, hungry swimmers. As for where to look, this fish is attracted to floating objects, so lines of seaweed on the water's surface can be a great tell to watch out for. And because seabirds and mahi-mahi share many of the same snack preferences, any flocking of birds over the water is worth checking out. There might just be some mahi action going on below!
Mmm, mahi-mahi!
There's one thing virtually all anglers and chefs can agree on—mahi-mahi is, well, delicious-delicious! Its meat is known for being exceptionally tasty, with a flavor that's mild with a gentle touch of sweetness. Its texture is moist yet firm, making it a versatile player in the kitchen. Mahi-mahi works well in a variety of ways—and one of our favorites is a seaside classic, a mahi-mahi sandwich.
Here at Coastal, our Mahi-Mahi Sandwich can be enjoyed any way you like—grilled, blackened or fried to perfection. Like we said, it's a versatile fish! Paired with tartar sauce on a toasted brioche bun, it's sure to satisfy on a breezy weekend lunch or after a long day of fishing. For an easy at-home entertaining option, you can also grill up your own fresh-caught mahi-mahi to toss onto tacos. Whichever way you dig in, you're sure to fall in love with this tropical favorite.
Mahi-mahi makes your spring extra special—whether you're proudly posing with your latest catch, or enjoying fresh mahi flavor here at Coastal!