Wed, Aug 21, 2019 at 12:32PM
---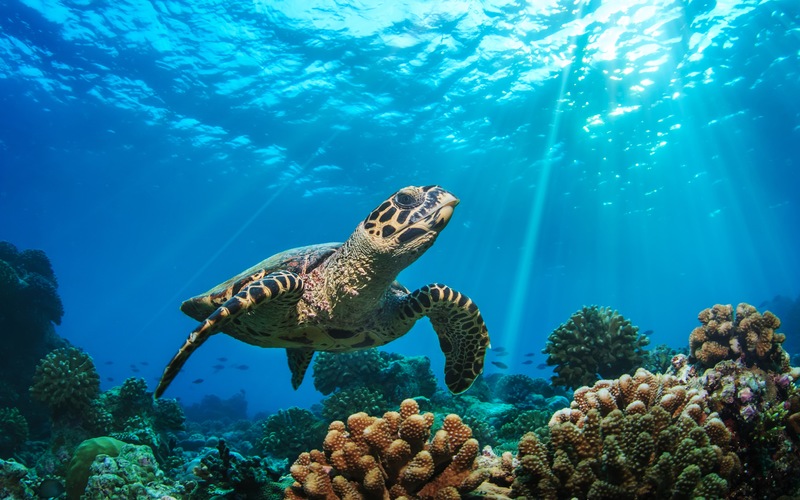 While summer crowds may be thinning out at your favorite beach, another coastal dweller will be sticking around through early fall! We're talking about sea turtles, and the one-of-a-kind journey they make at this time of year to nest and lay their eggs.
Read on as we get to know more about this unique phenomenon, occurring right in your backyard!
A moonlit journey
Although it's certainly sea turtle season (which runs all the way to Halloween), you may be surprised to find that the turtles themselves are actually pretty elusive! This is because the magic happens at nighttime. Mother turtles venture ashore to nest and lay their eggs throughout the season, while the hatchlings, after about 50 days, make their way out to sea to complete the journey. They do this guided by the light of the moon over the water. This is why lights are not allowed at the beach during nighttime, and coastal homes and businesses are told to turn their lights off (or at least redirect them from the shore, so that the young turtles don't confuse them for the moonlight).
90 percent of the country's sea turtle nesting happens in Florida, including right here in Volusia County! In fact, a record number of nests have been established here this summer—in Volusia and Flagler alone, there were more than 4,500 nests as of late July!
Spot a sea turtle nest?
What do you do if you spot a sea turtle nest during your daytime beach trip? Look, but don't touch it, and mind where you are working so as to not disrupt any eggs (often, you will find that these nests are protected by barriers for this purpose). As always, avoid littering so that the beach is as clean and navigable as possible for the young turtles' journey.
Where to see sea turtles
Unless you spontaneously spot sea turtles in action, it can be hard to count on a viewing during sea turtle nesting season—but there is still a way for you to see these majestic creatures in person! In nearby Ponce inlet, the Marine Science Center Sea Turtle Hospital provides rehabilitative care for sea turtles who are injured, as well as hatchlings and "washbacks" who were pushed back ashore by strong waves. Visitors can often see these turtles as they are being cared for and prepared for the return to sea! From Turtle Terrace at the Center, you can observe turtles in the hospital pools and learn about their stories, too, so you get to know the sea turtles' journey on a closer level.
Sea turtle savvy
In honor of sea turtle nesting season, let's take a look at some fun facts about this one-of-a-kind creature. For example, did you know that…
Loggerhead turtles, the most common sea turtle off Florida's shores, can grow to be about 250 pounds and nearly three feet long.
They are serious swimmers, with mother turtles swimming as far as 7,000 miles to lay their eggs where they were hatched!
Like you, loggerheads have a love of seafood! Their mighty jaws can munch on everything from clams to crabs and much more.
Sea turtles are among the most majestic wildlife to call the Sunshine State "home," even if they're only here for a short period of time! (Just think of them as nature's vacationers.)