Mon, Oct 21, 2019 at 5:53PM
---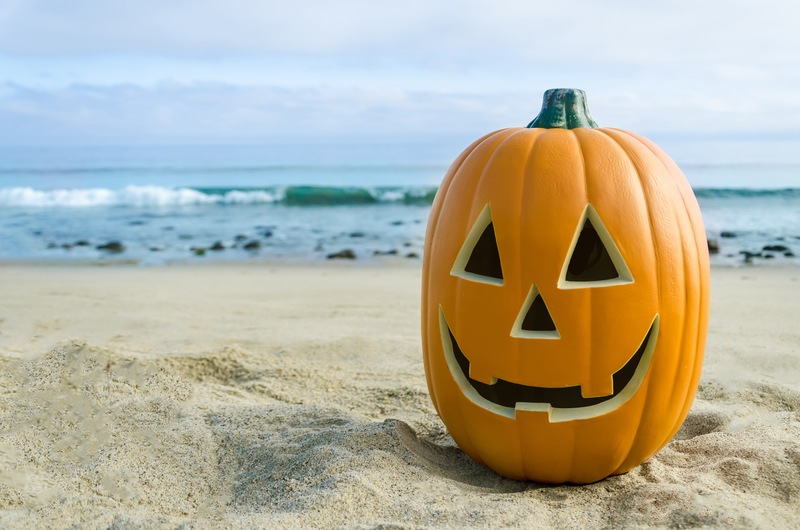 Happy Halloween! This year, why not celebrate the holiday with some Coastal flair? Just read on as we share a few of our favorite ways to spend the day—including plenty of delicious drinks, eats and sweets.
Spend time by the beach
For much of the country, Halloween is a brisk day—characterized by falling leaves and wondering whether or not your costume is warm enough for the night! However, here in the Sunshine State, we have the unique ability to spend the spookiest day of the year in the sand and by the water. Don your costume and head to the beach, where you can build Jack-o-Lanterns out of sand or share spooky stories with friends gathered around a beach blanket. You can also use this as an opportunity to sport ocean-themed costumes! Whether you're a pirate, mermaid, or jellyfish—just tape decorative streamer "tentacles" to an umbrella and whoosh it around all night.
Discover local haunts
Did you know that our corner of Florida is home to a wide variety of spooky, storied destinations? Rumored haunted hot-spots include the Ponce de Leon Inlet Lighthouse, or the Fairchild Oak in Ormond Beach—at more than 400 years old (and counting), this massive tree has seen it all, including, some say, a handful of ghostly events. But haunted or not, it's fun to immerse yourself in history on Halloween, a day that's all about revisiting past traditions and embracing your love of scary stories!
Enjoy the Port Orange Halloween Fest
Looking for a family-fun way to spend Halloween this year? Look no further than the Port Orange Halloween Fest, which kicks off at 5:30 p.m. Halloween at the Port Orange City Center Complex. There will be costume contests, a petting zoo, trunk-or-treat, and even a haunted house for adults and older kids.
Dig into delicious food…
No Halloween would be complete without some seriously delicious eats! After all, since we were kids, this is a holiday that's largely been defined by the art of scoring as much candy as possible. Even if you're not going trick-or-treating, you can still trick-or-treat yourself to something sweet here at Coastal Grill, where we regularly serve up decadent desserts like Key Lime Pie, our "Neighbors" Lemon Blueberry Ice Cream Cake, Brownie Sundae and more.
… and say "cheers" with monstrously good drinks
Don't forget about the drinks to pair with your Halloween meal! This is a holiday best spent with friends, and we've got you covered with a few delicious picks to "cheers" to on your evening out…
Zombie, a spirited medley of Flor de Cana Rum, Wicked Dolphin Rum, orgeat syrup, passion fruit syrup, lemon, lime, a dash of bitters and a Myer's Rum Floater. The name of this drink may be inspired by the undead, but its flavor is full of life!
Smoke Show, featuring El Jimador Tequila, Noble Coyote Espadin Tequila, passion fruit syrup, lime juice, agave syrup and a smoke salt rim.
Strange Brew, an intriguing concoction of Grander 8 Year Rum, lemon juice, pineapple juice, orgeat and an I.P.A. float. On a holiday that's all about the strange, bizarre and spooky side of life, the Strange Brew is sure to please!
Ready to celebrate? Come by this Halloween—perhaps sporting your best Coastal costume—and enjoy the big day with quality company (plus, of course, your favorite flavors). We can't wait to see you soon!