Fri, Jul 26, 2019 at 4:33PM
---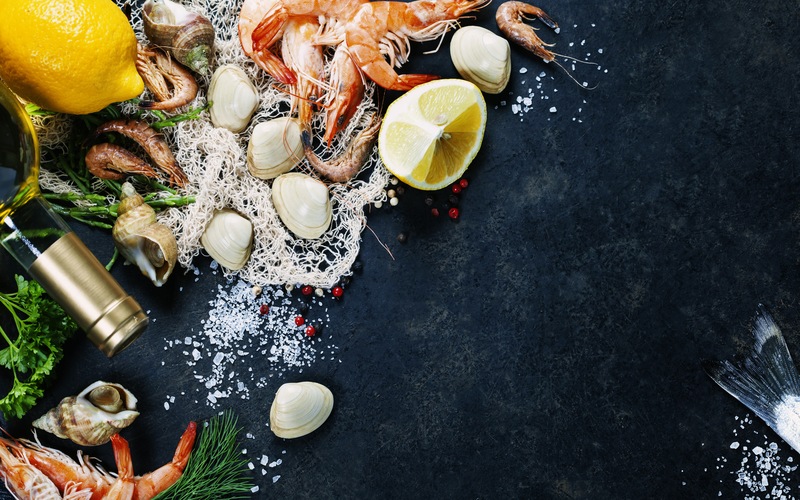 Enjoying fresh seafood flavors at Coastal is as easy as sitting down, ordering, and digging in! But have you ever wondered what goes into the making of your favorite dish? It all starts with a few essential ingredients.
Whether you're an at-home chef looking to stock up on staples, or simply want to learn more about your go-to meal, we're here to help! Just read for a closer look at five key essentials, inspired by the ones we use in our very own kitchen.
Drawn butter
You know that butter is an essential part of many seafood dishes, especially crustaceans like crab, lobster and shrimp—but not just any butter will do! Seafood specifically calls for drawn butter, which is essentially melted butter, which provides a smooth, silky complement to your meal. The result? Coastal dishes like our Snow Crab Legs or Peel & Eat Shrimp which are especially moist, mouthwatering and easy to enjoy!
To make your own drawn butter at home, melt it slowly on your stovetop and skim off the foam from your melted butter. (By not cooking it too quickly, you'll be sure to get the richest, smoothest drawn butter possible, which is perfect for a seafood dish that really "wows" the crowd.)
Lemon and lime
You may notice that citrus features in a lot of Coastal dishes, like our Peel & Eat Shrimp, Snow Crab Legs, and Shrimp Ceviche. Lemon, especially, is a standard staple to reach for when cooking a wide variety of fish. Why is that?
Old legend says that lemon was used to dissolve fish bones, so that they wouldn't get lodged in your throat as you dined! But today, we know that lemon provides a powerful flavor component—one that brings a bit of zest to flesh out the seafood's mild flavor, all while neutralizing the fish's natural flavor so it tastes balanced and delicious.
Old Bay
Like its name might suggest, Old Bay seasoning was first prepared in the Chesapeake Bay—a famous fishing capital known most especially for its crabbing industry. Together, Old Bay's chief ingredients (including black pepper, red pepper and paprika) combine to create a flavorful complement to many seafood staples, such as our Peel & Eat Shrimp. If you're getting started on your seafood journey at home, you can't go wrong by keeping this handy seasoning blend on hand!
Cocktail sauce
Like peanut butter and jelly or chips and salsa, shrimp and cocktail sauce go hand in hand! Our special Coastal Cocktail Sauce serves as a flavorful companion to the Shrimp Cocktail at our Raw Bar—a delicious way to cool off on a hot day, or pique your appetite before the main course.
Tartar sauce
Another go-to sauce is tartar sauce, a simple mayonnaise-based sauce whose sweet, tangy flavor can really bring out the best of fried fish like our Fried Seafood Platters, or our Fried Fish Sandwich with fresh haddock! The best part? At home, tartar sauce can be easily whipped together to taste for a truly flavorful go-to.
Now that you know these essential seafood ingredients, taste them for yourself! Whether you whip up a recipe in the kitchen or kick back with friends on a Coastal outing, we know you'll enjoy the flavor magic that happens when these ingredients get together.