Tue, Jun 22, 2021 at 10:37AM
---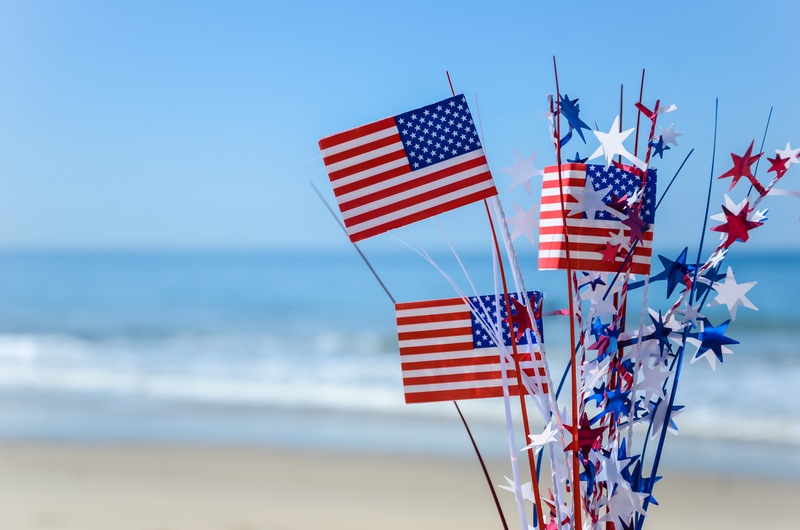 Look forward to cookouts, popsicles, beach days, fireworks displays, and all sorts of nonstop summer fun. Those are just a few of the endless reasons we love celebrating the Fourth of July! But with this patriotic celebration approaching fast, it's the perfect time to settle on some concrete plans to enjoy the holiday weekend to its fullest. Here's a few ways you'll find us celebrating:
Learn a Little History
In all the red, white, and blue excitement, it's easy to forget the reason for the season. The Fourth of July marks Independence Day, the day we celebrate the adoption of the Declaration of Independence. We commemorate the event when the thirteen colonies separated with Great Britain, recognizing themselves as independent, but united, states. In honor of this historic happening, why not commit the weekend to learning a little more about our country's past?
Adults might enjoy starting a historical book or watching a documentary – but if you're looking to keep it family-friendly, there's plenty of age-appropriate movies that celebrate different parts of American history. Try, for example, the American Girl film series to learn about life in different time periods, Disney's American Legends anthology to learn our country's folklore, or opt for Schoolhouse Rock! for timeless shorts that discuss U.S History and government.
This also might be the perfect time to explore local historical museums or sites to learn more about the rich local history around you – and to support those dedicated to educating about the past. Or, even if you're keeping celebrations simple, you can still fly a flag proudly outside your home – the perfect centerpiece to all your red, white, and blue holiday décor.
Beat the Summer Heat
In July – especially in Florida – the heat can be intense. Luckily enough, there's plenty of fun ways to keep cool with the whole family. For example, why not fill up some balloons to begin a backyard water balloon fight? If the action isn't quite your style, try making a splash by firing up the sprinkler or hitting the pool. If you have a bit more time, take to the beach with family or try out a new on-the-water activity, like kayaking, paddle boarding, canoeing, or even surfing.
Watch a Fireworks Spectacular
Nothing finishes off an amazing Fourth of July evening like a fireworks display. Thankfully, there's plenty of ways to catch one! If you'd prefer relaxing at home, you might try catching one of the many nationwide displays on TV – or, if you're lucky with your location, watching them from a distance in your own yard, spiced up with some sparklers and a special playlist of festive music to match. Or, if you're wanting an outing, you can visit Port Orange's Fourth of July Spectacular at 5:30 – 9 pm at City Center Park, where you'll find music, food trucks, a beer garden, a car show, and fun for kids. Fireworks start at 9 pm!
It's Not Summer Without Seafood
Fresh seafood in the summertime is a Florida staple – so why not work it into your holiday weekend plans? Stop in to Coastal Grill & Raw Bar to taste some delicious, fresh bites – like our Tide to Table menu offerings to help you best enjoy our fresh catch of the day and signature sides. Or, opt for a delicious order of Peel & Eat Shrimp, a bowl of New England Clam Chowder, or even a dozen Regional Raw Oysters, shucked and served fresh. No matter your choice, expect a fresh, local, social meal that's a perfect accent to your celebrations.