Wed, Aug 21, 2019 at 12:31PM
---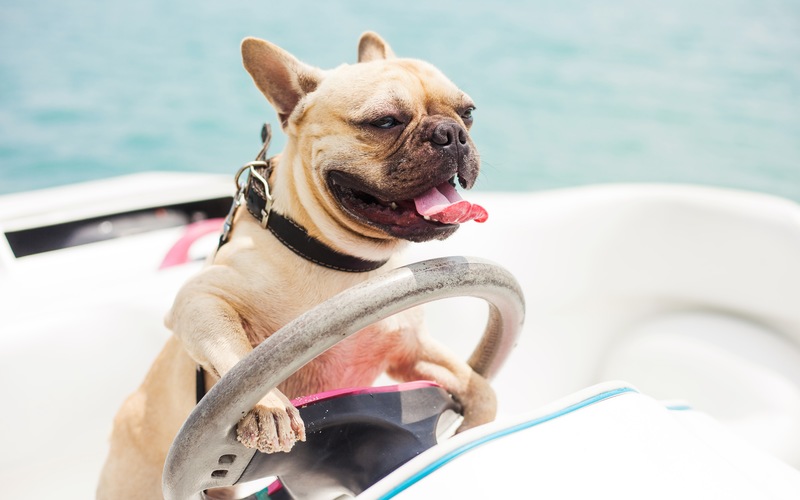 Happy National Dog Day! On August 26th, we're celebrating our furry friends—and the effortless way they make fishing, boating and beachin' around more fun! Just read on as we share a few of our favorite ways to enjoy quality time with your pal, today and all year long.
Bring your dog to the beach
One of the best ways to enjoy quality time with your dog is to take her to the beach! Quieter stretches of shoreline throughout the Volusia County area often provide the perfect backdrop to four-legged fun. Two dog-friendly destinations include Smyrna Dunes Park, which gives you plenty of room to run around the sloping sand; and Lighthouse Point Park, which is a prime spot to go wildlife viewing. Kick back and relax with Fido as you scan the horizon for dolphins by the shore, as well as a wide variety of shorebirds and other creatures!
You can also try "doga," or yoga with your dog, amidst the serene shoreline setting. Bring a frisbee, too, or unwind as you relish the view and the rolling waves—either way, a day at the beach is never wasted.
Splash around and learn the doggy paddle
Dogs are often apt swimmers! If your pup enjoys the water, enjoy a swim session in your backyard pool so you can both get your laps in—without it ever feeling like a "workout," but pure fun instead. No pool, no problem! You can pick up a kid-sized pool or even run around with your pet by your sprinkler.
Enjoy fishing fun with Fido
Over the years, many dog breeds developed a love for the water, and even fishing in it! Today, you might prefer rod-and-reel fishing to letting your dog do all the work, but he's still sure to enjoy being by your side as you cast your line and try for "the big one." In fact, your dog might even notice (and clue you into) movement in the water before you have a chance to spot it—making him an essential angling partner.
Boating and fishing with your dog is simply more fun. Bring along a dog-sized life jacket and plenty of fresh drinking water for your furry friend to ensure a smooth experience!
Have a seafood picnic…
You love your favorite seafood flavors here at Coastal—and as it turns out, your dog might as well! According to the American Kennel Club, shorter-lived species such as salmon are best for your dog. Plus, salmon is packed with omega-3 fatty acids, which are as good for your dog as they are for you in terms of brain health and decreased inflammation. As always, check with your vet before adding a new food to your dog's diet. Once you get the OK, treat your pup to boneless bits of fish for a special snack! Add some seasoning for you but not for your pup (who doesn't love Old Bay, garlic and other seasonings as much as you do!).
… or a pooch party!
Dogs bring people together! Get some friends together and invite their furry pals, too, for a day at the dog park or a backyard pool party. Either way, it's sure to be a splashing good time.
We hope that these ideas help you enjoy some serious fun with your furry friend, today and every day!