Fri, May 17, 2019 at 12:15PM
---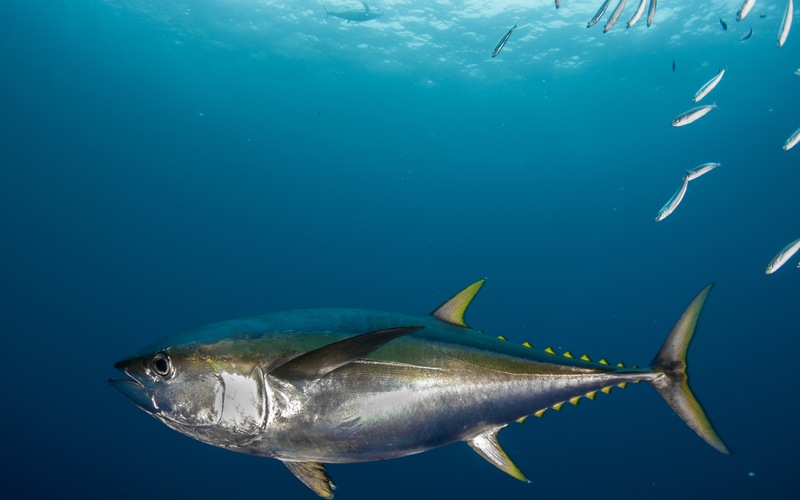 On the water, yellowfin tuna is an angler's prized catch—one that calls for heavy gear, offshore trolling and plenty of perseverance.
On land, yellowfin is just as renowned—but at dinner, you may know this favorite fish better by its Hawaiian name, "ahi." And it simply can't be beat.
Because summertime is ahi time for Florida's Atlantic anglers, we thought we would take a look at the ins and outs of landing one of these prized catches—and how to enjoy ahi flavor when you're back on shore! Just keep reading to learn more.
A colorful catch
Ahi meat is known for its vibrant red color in the kitchen—but it's a sight to see out on the water, too! Here, you can see where the fish got the name "yellowfin," as gold fins and a flashy matching stripe run along the length of the fish (which can grow pretty big, by the way, with the state record weighing in at 240 pounds!). The yellow stands out against the fish's shimmery blue body, making for a truly photo-worthy catch.
Now, about that catch—how do you go about landing one? For starters, head offshore to deep water. Stretches of ocean east of Daytona Beach, Port Orange and New Smyrna Beach are all safe bets! Look for feeding birds on the horizon, since they often like to snack on yellowfin's leftovers, and go trolling to cover a large area and see where you might find some feeding action. One tactic enjoyed by many yellowfin anglers is chumming, which involves tossing bait chunks into the water and drawing fish to the surface for a frothy feeding frenzy—a fun sight to see and, of course, an opportunity to get even closer to this fast, elusive fish.
Ahi goodness in the kitchen
Like we mentioned, ahi is a colorful fish! Its firm, vibrant meat lends itself to raw, sushi-style dishes where it can really shine. Take, for example, Coastal's Ahi Tuna. A specialty straight from our Raw Bar, this lively dish features sushi-grade ahi with sesame seeds, sesame ginger dressing, Asian slaw, seaweed salad, pickled ginger and wasabi, all classic fixings that complement the meat's mild flavor perfectly.
For the perfect pairing…
To round out your meal, you may be wondering what drink pairs best with ahi. Because it's a fish, you may be inclined to reach for a glass of white wine—but actually, you may be surprised to find that ahi is one of the few fish dishes experts recommend enjoying with red wine, too, in addition to richer whites. Try a pinot noir or even a delicious rosé to pair with your ahi, anything with a bit of acidity to complement the meaty fish.
Craving some ahi action? Whether you're on the water, or simply can't wait to savor fresh ahi flavors at the dinner table, this is truly the fish of the season—so get out there and enjoy it!