Mon, Feb 24, 2020 at 11:00AM
---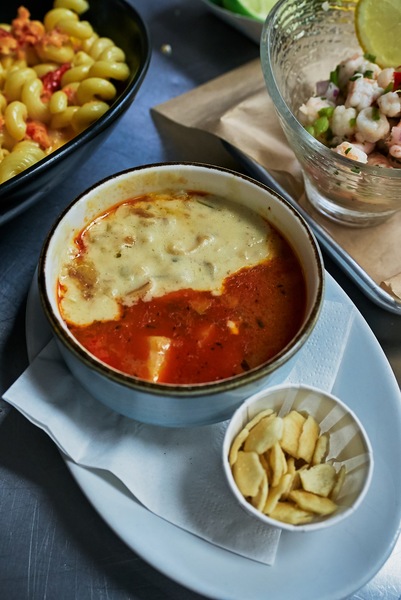 Has recent cool weather worked up a craving for warm, creamy clam chowder? You're not alone! Just read on as we share five delicious facts about this beloved seafood dish—and how to dig in here at Coastal Grill!
"Chowder" may come from the French word for cauldron
While we know that chowder was likely introduced to the United States by way of Nova Scotian settlers, the origins of the word "chowder" itself are a little more opaque (not unlike the soup itself!). However, a likely source is the French chaudron, or cauldron, in which a dish like chowder would likely be cooked. Quebecois French also has the similar chaudiere, or bucket, which could describe the shape of a chowder's cooking pot or the vessel used to transport clams from coast to kitchen.
Clam chowder was served at one of America's oldest restaurants
Clam chowder is a long-running flavor tradition in the coastal United States. The quintessential New England variety—served here at Coastal Grill with classic chopped clams, cream, diced potatoes, onions and celery—is especially famous, and was in fact served in one of America's oldest restaurants! Ye Olde Union Oyster House in Boston has been continuously operating since 1826, and started serving clam chowder by 1836, helping to establish the creamy comfort food as a true American mainstay and seafood staple.
In Florida, the Minorcans made a key contribution to traditional clam chowder
New England's clam chowder may be most famous, but it's not the only option on the scene! Closer to home, in St. Augustine, a new variety was born. Minorcan Clam Chowder (served here at Coastal Grill with chopped clams, red potatoes, diced peppers, onions and tomatoes for a vibrant flourish) is a flavorful contribution to the New World by laborers from the Mediterranean island of Minorca.
New England foodies take their chowder very seriously…
For most of us, the chowder we choose is based on our own personal preferences or our mood of the day—unless you're a New England foodie, in which case you may have some pretty strong opinions about what a chowder is (or isn't). In fact, in 1939, Maine lawmakers debated outlawing tomatoes in chowder altogether! Of course, we here at Coastal think there's room for all kinds of flavors in this go-to comfort food favorite.
… but they're not the only ones who love this classic comfort food
Clam chowder is closely tied to the cuisine of New England, but it's beloved by foodies across the country. In fact, according to HuffPost, clam chowder is one of Americans' favorite soups, second only to chicken noodle and tomato soup in terms of popularity. As we can see, there's plenty of love to go around when it comes to this soothing favorite.
Bonus: How to enjoy a bowl of chowder goodness, Coastal-style
If all this chowder chat has made you hungry, Coastal has you covered. Enjoy a cup or bowl of our New England or Minorcan Clam Chowder—or, if you're having trouble choosing between these two delicious options, try our 50/50, featuring two chowders in one! Whichever you choose is sure to satisfy.
On cool days and all year long, Coastal Grill is here to satisfy your clam chowder cravings! Swing by and enjoy spoonful after delicious spoonful.